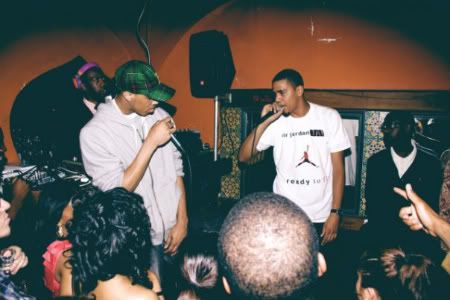 So, most people that come here probably know Cole's Friday Night Lights mixtape dropped this past friday. The response was incredible. It was the number one trending topic on twitter...worldwide. At one point, the mixtape was the no. 2 most searched thing on google, period.Every site/download link was crashing and at one point, there were 4000 people per second coming to his website. Amazing.
It really showed us that hard work pays off.
With that said, the response for the song I'm featured on has been incredible. It seems to be one of the favorites, if not the favorite of many fans. I've been seeing tons of people quoting my verse and thats just an amazing thing to me. I'm posting the song here and my mama asked me for the lyrics, so I figured I'd post them here as well. Tour is still going great. Can't wait to start performing this. Peace and love.
Listen here.
Lyrics
Now see God, I know you only do whats best for me
but is it cool if we negotiate my destiny?
they always telling me its temporary
then why its feeling like a cemetary
my dreams aint got no obituaries
my city hurting and none of us well equipped here
you heard me say I was ballin, I prolly meant tears
I'm tryna get clear, Im tryna quit fear
who wrote the scripts here?
These kids live they whole lives just killing time
running a race with no finish line
they tryna noose us with that rope, but im finna climb
I think my foolish pride, might become my suicide
but I aint tryna go, no baby
cuz through these lines and quotes
u gotta find some hope
cuz I aint dying
my words gon last forever
you can hold the treasure
look inside, see a diamond in my mind
Im tired of seeing dopefiends
wiping they nose clean
is my neighborhood just a smokescreen
I think im in the dungeon fam
I see low green
sons raised by bold queens, but its no kings...